We invite you, your family, and friends to visit
Hillside's 6th Annual Shining Light on Abilities display
at 1235 Veronica Springs Road, Santa Barbara
beginning Saturday evening, December 3, 2022, after sunset and continuing nightly until Saturday, December 31.
Hillside's 6th Annual Shining Light on Abilities officially opens on Saturday, December 3 after sunset and continues nightly until Saturday, December 31.
Bring your family and friends and enjoy the festive display of holiday decorations and brilliant lights along with a slideshow featuring Hillside residents shining light on their abilities!
All are welcome, and admission is free.
Donations are appreciated and encouraged online at https://hillsidesb.org/donate/ or you can make a donation during your visit by placing it in the white donation lockbox below the US mailbox at the front entrance of Hillside.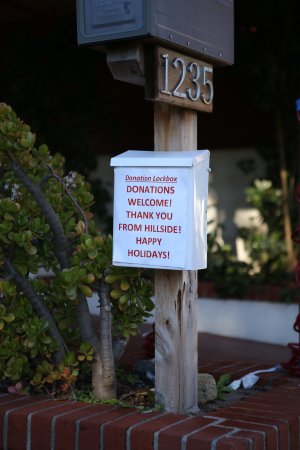 For information,
please contact Michael Padden-Rubin, Director of Development, at 805-687-0788 x115 or mpaddenrubin@hillsidesb.org.
Proceeds benefit Hillside and the residents. Thank you.
For Sponsorship Opportunities,
please see the various levels and corresponding benefits.
Please print out, complete, and return the Shining Light on Abilities Sponsorship Reply Form to Michael Padden-Rubin via email at mpaddenrubin@hillsidesb.org or via mail to Hillside Finance Department, 1235 Veronica Springs Road, Santa Barbara, CA 93105-4522.