Hillside's 2023 Pickleball Tournament & Expo
Saturday, April 15, 2023 @ Cathedral Oaks Athletic Club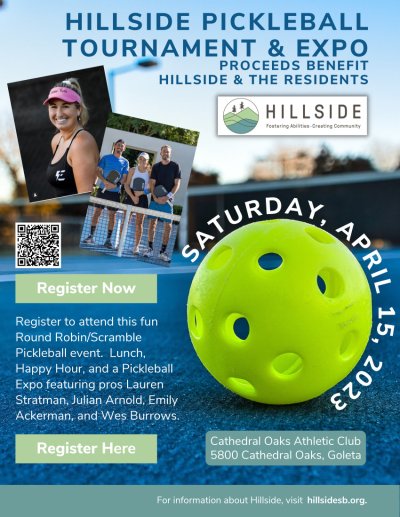 Welcome to the first-ever Hillside Pickleball Tournament & Expo
Join us for this fun Round Robin/Scramble Pickleball event with three different skill levels, male and female mixed, including lunch. The Pickleball Expo – featuring the Pros: Lauren Stratman, Julian Arnold, Emily Ackerman, and Wes Burrows – begins at 5:00 pm along with Happy Hour. Come to play and stay or arrive later for the Expo and Happy Hour. Register early as tickets will sell out FAST!
Proceeds benefit Hillside, a residential community in Santa Barbara serving 59 individuals living with intellectual and developmental disabilities. JP, who calls Hillside home, is kind and athletic and likes to give hugs. He was born with a congenital brain disorder. JP is the son of Jim and Lisa Wilcox, avid pickleball players and Hillside supporters. Lisa serves on the Hillside Board of Directors. The couple are grateful JP is thriving at Hillside thanks to the staff, and they would like to show their gratitude. The Pickleball Tournament is one way for them to do that.
| Time | Activity | Player Limit |
| --- | --- | --- |
| 7:30 am | Registration | |
| 8:00 – 10:30 am | Novice Scramble | 16 players max |
| 11:30 am – 2:00 pm | Intermediate Scramble | 16 players max |
| 2:30 – 5:00 pm | Advanced Scramble | 16 players max |
| 5:00 – 8:30 pm | Expo & Happy Hour | |
Watch the Pros: Julian Arnold, Lauren Stratman, Wes Burrows, and Emily Ackerman play as you socialize, enjoy appetizers, win raffle prizes including signed paddles, PB lessons, and PB net, bid on auction items, and more!
Pickleball Pros attending
Lauren Stratman has quickly risen to the highest ranks of Pickleball. Since her debut in 2020, Lauren has since become one of the top players in the world and was ranked the #1 female player on the APP Tour in 2021. Lauren's father, Hugh Stratman, was a tennis pro at Cathedral Oaks Athletic Club, and he got her into tennis as a young kid. When she transitioned to Pickleball, she knew that's where she belonged. Today she plays in the Major Pickleball League for the Las Vegas Night Owls.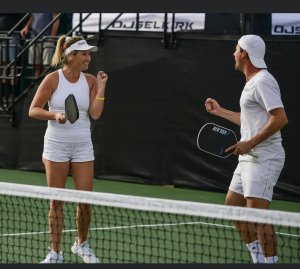 Julian Arnold was born and raised in San Luis Obispo, California. He is now sponsored by Volair, Best Day Brewing, and Chicken N Pickle. He has accumulated 14 medals, most recently a bronze in singles at the PPA Desert Ridge. Julian was also on the most recent winning MLP Premier Team, LA Mad Drops, and was named the MVP of the entire event in February of 2023.
Emily Ackerman is the former Cal Poly women's tennis star who may have graduated this past spring, but she isn't done leaving her mark on the court — this time in Pickleball. The Thousand Oaks, California native earned her first career sponsorship from Volair Pickleball in November. A few weeks later she was drafted by the Chicago Slice in Major League Pickleball, an organization that has received investments from a number of celebrities and high-profile athletes, including Patrick Mahomes, Tom Brady, LeBron James, and tennis stars Naomi Osaka and Nick Kyrgios.
Registration Options
Early Bird by March 21
March 22 until Sold Out
Play
Play a scramble, lunch and swag bag
$150
$175
Stay & Play
Play a scramble, lunch, swag bag and Expo & Happy Hour
$250
$275
Expo & Happy Hour only
Two Drink Tickets and Heavy Appetizers
$125
$150
Player Levels
Novice – beginner player (2.0-3.0 rating)
Intermediate – good solid player (3.0-3.4 rating)
Advanced – high level player (3.5+ or higher rating)
Sponsorship Opportunities
Sponsorship Levels
Sponorship Costs
Benefits
Number Available
The Big Dill
$5,000
• Four Happy Hour Tickets
• Recognition on Event Banner, Website, and Social Media
• Verbal Recognition at the Event
1
The Kosher
$2,500
• Two Happy Hour Tickets
• Recognition on Event Banner, Website, and Social Media
• Verbal Recognition at the Event
2
The Classic
$1,000
• Recognition on Event Banner, Website, and Social Media
• Verbal Recognition at the Event
4
Bread & Butter
$500
• Recognition on Event Banner, Website, and Social Media
Unlimited