It's That Time of Year Again!
Hillside will kick off Shining Light on Abilities,
its annual display of colorful and festive lights,
on Saturday, December 2nd!
Our holiday lightshow draws thousands of visitors
each year and is free to all.
The display is lit up every night after sunset
from 12/2 through 12/31.
If you would like to be a part of this exciting tradition, sponsorships are available.
Please contact Cheryl Sweeney, Chief Development Officer at 
csweeney@hillsidesb.org or (805) 687-0788 x123
for more information.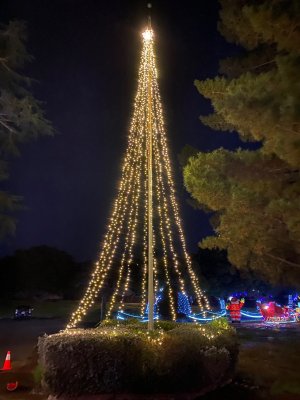 If you're interested in learning more about Hillside, please consider joining us for one of our
Getting to Know Hillside open houses.
This event is held the third Wednesday of each month at Noon.
For more information, please call Elizabeth Arendt, our Development Assistant at (805) 687-0788 x109.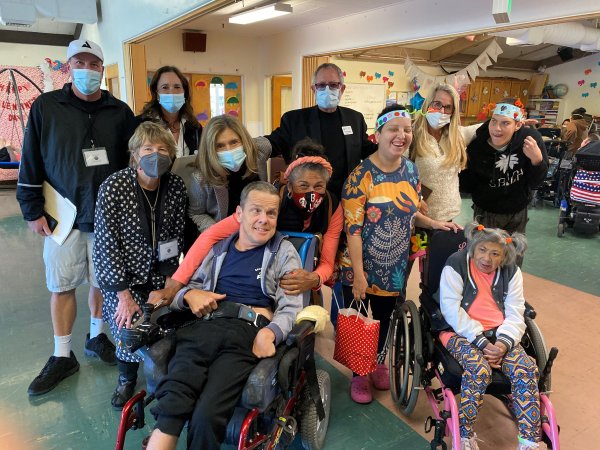 FOSTERING ABILILITIES
CREATING COMMUNITY
A residential home for people with intellectual and developmental disabilities.
People with disabilities and their families count on Hillside to provide quality care, independence and integration within our community. Hillside strives to advance the potential of each resident by fostering abilities and creating community.
The individuals who call Hillside their home need a caring community to survive. Hillside provides them what they need to follow their passions and discover their abilities.
For our 59 residents, Hillside is home.
"People who have intellectual and developmental disabilities are able to touch hearts and to call others to unity through their simplicity and vulnerability."
Jean Vanier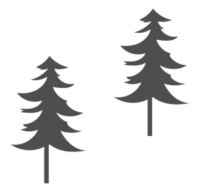 "Hillside is a critically important part of a healthy community because we do need to care for those who are least able to care for themselves."
— Norris Goss, Vice-Chair, Hillside Board of Directors
Learn more about our services.
Hillside offers many activities on our property and in the community. We provide 24-hour nursing care and a range of therapeutic programs in a caring environment.
City of Santa Barbara TRAP Program
Hillside is pleased to have the opportunity to offer our residents access to the TRAP program thanks to funding we received from the City of Santa Barbara Community Arts Grant. The Rhythmic Arts Project (TRAP) is a drumming program designed for individuals with intellectual and developmental disabilities to be able to make music. Not only is this a fun and engaging activity for them, it also uses multi-sensory stimulation which is critical to their development. We are so thankful to the City of Santa Barbara for making this possible!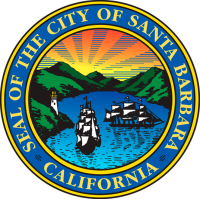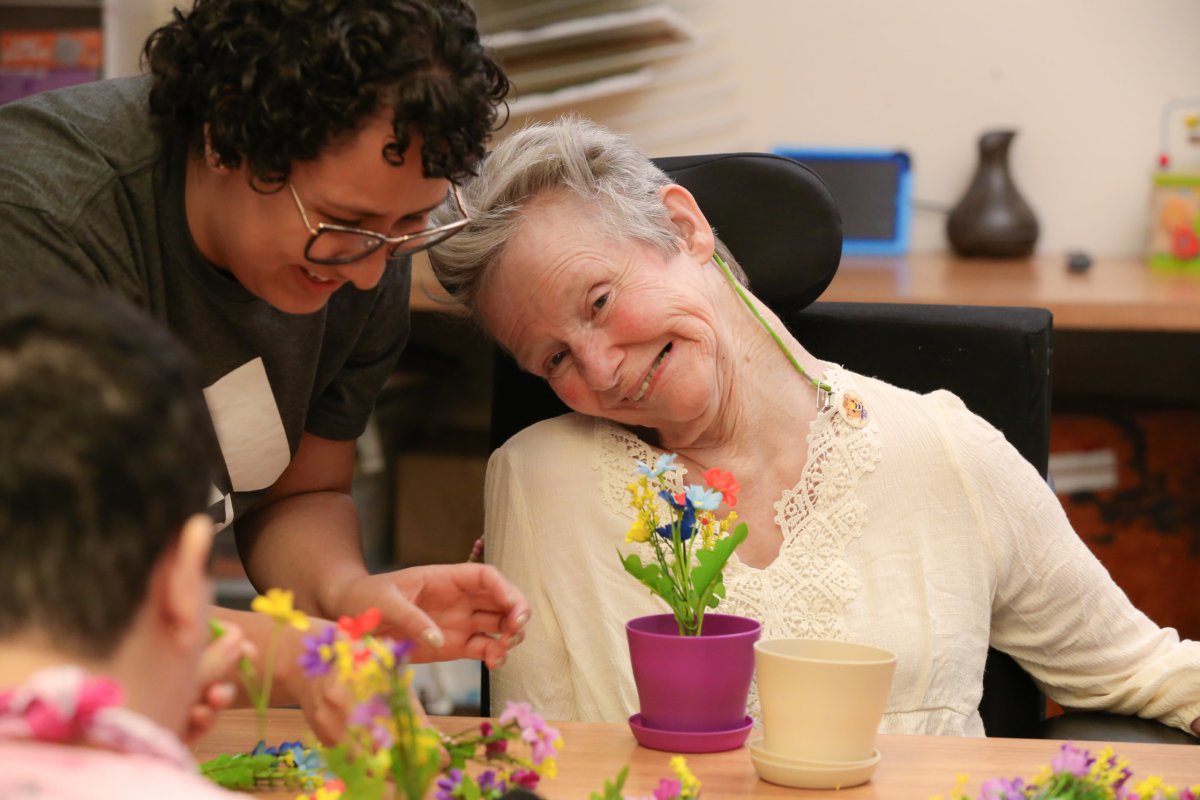 Hillside Looks to the Future…
There are nationwide efforts to remove barriers to community living for people of all ages with disabilities, and Hillside is part of this movement. The Hillside Community Project will transform our model of care by creating a new mixed- abilities neighborhood on our property – the first of its kind in the Santa Barbara area.
"To provide a home that supports the residents' efforts to maximize their physical, cognitive, social, and emotional abilities, so that they can attain their highest level of independence in an environment where people are treated with dignity and respect."
Register for our bi-monthly e-newsletter to find out about upcoming events, recent stories about residents, and more.  Hillside is a happening place, so be a part of the fun!
Hillside is grateful for these gifts made
in honor,
in celebration,
in appreciation and
in memory of
a family member, friend or loved one.
We appreciate your generosity to Hillside.
If you would like to make a tribute gift, please click on the Donate button below.
Thank you for your support. It means everything.
In memory of
Charles K. Lee and Jane Elizabeth Lee
by Roger and Diana Wallace
In memory of
Charles K. Lee
by Lynn and Cheri Schmoll
In honor of
Michael Rassler
by Stephan Frenkel
In memory of
Jim Reinert
by Alice MacDonald
In memory of
Charles K. Lee
by John Baker
In memory of
Charles K. Lee
by Nancy Freud
In memory of
Charles K. Lee
by Beverly Gilmore
In memory of
Charles K. Lee
by Sylvia Starkman
In memory of
Charles K. Lee
by Philip Wood
In memory of
Charles K. Lee & Jane Elizabeth Lee
by Janice Lee
In memory of
Joanne Polacco's cousin
by Mary Luther
In memory of
Gita Lee
by Mark & Asha lee
In memory of
Ruth Spevak
by Robert Ross
In memory of Virginia Lee
by Harvey Troesch
On behalf of
Katie Troesch

In honor of
Eleanor Rassler
by Michael & Ruth Rassler
In honor of
Sophie Corley
by Alford Corley
In honor of
Mark Tryon
by Susan Butler
In honor of
Jim & Marcia Wolfe
by Bob & Patty Bryant
In honor of
JP Wilcox
by Ken & Peggy Smith
In honor of
Kenneth Bilow
by Robert & Caroline Timlin
In honor of
Jim & Marcia Wolfe
by Carol Stewart